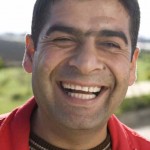 Although I'm normally not so much in the mood for writing after a day of riding I'm doing so now 'cause we've had such a splendid afternoon. We've managed to finally leave Adana after being there for close to a week. We wanted to visit St Peter's church (Supposedly the oldest church in the world) but didn't make it that far. We got delayed by the traffic-police who caught us on radar going 91km/h in a 77km/h zone. We were suppose to pay 125 Lira (60 Euro) each, but the police let us go after we convinced them that we do not have any cash on us. (It took quite a bit of waiting and being very friendly and stupid at the same time.) The whole scene ended with the police asking if we would allow them to have a photo taken of them standing next to us and our bikes. Unbelievable. Again we felt and were treated like celebrities in Turkey. (Here I have to mention that it's not always the case since I already have an outstanding speeding fine here in Turkey) But that's a different story.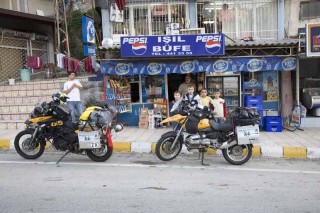 A few km after that the road lead us through a town where we decided to have a very quick stop for something to eat. We've hardly been of the bikes before a bunch of kids approached us, asking our names etc in broken English. The shop-owner invited us for a tea which we enjoyed on the busy sidewalk of the main road. Being invited for tea is becoming a standard happening in our daily travels here in Turkey. (Bless the Turkish people and their hospitality) After spending a good 45min drinking tea and showing our route and chatting and taking photo's we were back on the road again. We went over a pass and coming down we had a breathtaking view of the plato in the sunset. Everything was just perfect. I had the English suites (Bach, for you un-educated donkeys) in my ears to round it all off to a perfect drive in the sunset. I was thinking by myself that it is exactly for moments like this that one does such a trip. We were heading for a certain camping-spot which was recommended to us by one of the guys we met on the sidewalk at the last stop, but the darkness caught up with us and we had to stop to ask in the hope that someone could direct us there. We stopped at a closed Shell-garage and asked. We were informed that the campsite does apparently not exist anymore since the lake is empty. We decided it a good idea to ask if we could pitch our tents on the Shell-premises since it was closed (or not officially opened yet since it's a brand-new gas-station) and we were definitely not in the mood to search for a spot in the dark again. (We've already established more than once that it can be very tedious and frustrating to find a suitable spot to camp after dark) Mehmet (the guy we asked who works and lives here at the Shell) explained more or less with hand-signing that we're welcome to, and allowed us to pitch the tents wherever we liked. He of course invited us for a tea which we gladly accepted. The tea were followed by a lovely spread of food which his wife prepared especially for us while we were sipping our tea. I cannot stress enough how exceptionally kind and friendly every single person we've met in Turkey has been till now.
Tomorrow's plan is St. Peter's Church, and then getting over the border to Syria. From now on onwards the real adventure is starting. Am so excited.
My tent is calling so I'm off.
And again as always, thanks for reading.

PS: And write those comments, it is very much enjoyed and appreciated on our side.