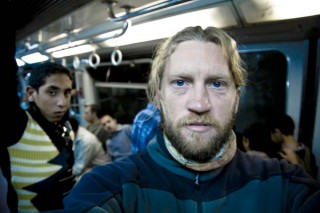 Being a South African I am used to dealing with incompetence and unreliability. I thought I had an idea of what we're in for traveling through Africa but I was so wrong. Nothing can really prepare you for the way things are done here in Egypt. It's off the scale. They simply have different priorities, different ways of doing things. The only thing that's actually happening on time is their prayer-hours. Nothing else. They often say "5 minutes" which really means anything from 5 minutes till a whole day. This is something that is said alot about African time, but one have to see and experience it to be able to really comprehend it. No sense off time whatsoever. It is hundred fold worse than what we so often complain about in South Africa. It's not easy getting used to if one is used to the western world. I've sort off made my peace with it and am now more amused by it than anything else. I mean, like Yasser so often says:  "What can you do?", which actually means that there's nothing to do about it. (Me and Christoph have adopted this phrase and have been using it more than often in the last 2 weeks.)
We drove to here (Aswan in South-Egypt) from Cairo under alot of stress to make it in time to meet up with a certain Machmoed, a "fixer", which basically means that he helps us getting the bikes and ourselves checked out of Egypt and onto the ferrie for Sudan. He said that we had to be here on Thu-night to be able to still get tickets for the ferrie. If we missed these tickets we would've had to wait another week before the next ferrie leaves for Sudan and we're already so far behind our schdule that it was just not an option. Long story short, we made it in time only to find that Machmoed's phone was off when we arrived. After many sms's and messages he finally phoned back the next evening to say that we should meet him at the ticket-office the next morning. Of course he didn't show up the next morning but we did manage to eventually get the tickets and do all the necessary admin ourselves. To be allowed to buy this ticket we had to leave the ticket-office (A) to get a paper from a certain office (B) on the other side of town that then has to be taken to the traffic-department (C) which is again somewhere else in town. Finally you get a little stamped paper  at C which then allows you to buy the ticket at A. The guy responsible at B simply didn't pitch at work untill 14:10. No explanation or excuse from him.  (We waited there since around 11:00 and some other tour-group waited since 8:00 the morning.) The catch is point C has now closed at 14:00 already, which means that no one can buy tickets on this day anymore. This again means that the ferrie that's waiting to be loaded with the vehicles simply has to leave a day or two later. (There's also a bunch of Anxious tourists with their barge of vehichles waiting on this ferrie to be loaded on the Sudan side.) The funny thing is that no-one cares about the delay whatsoever. The next morning arriving at the traffic department (C) the official responsible pitched a couple of hours late because he went to church. (He must be the only Christian in this whole city) The guys responsible really couldn't care less. This is just one example out of many. The passenger ferrie which leaves every Monday has no fixed departure time. It basically leaves when it leaves, which could be anytime between Monday afternoon and Tuesday.
Trying to buy anything here is also something else. No matter where you go they always try to sell you whatever item at literally 4-10 times the actual price. You really have to fight and bargain for every last little penny. Even with changing money at the bank. Basically every bank that I've been to for exchange has a currency-board on the wall which is suppose to display the different exchange rates. It's always switched off. If you don't get the guy to actually write down the exchange rate they take you for a ride. The last time I changed I had to put up quite a fight to get him to write down the rate and to hand me the calculator. After this he first tried to write down too low a rate, then he tried to change it at a different rate than what he wrote down, and then after I've showed him with the calculator that he made a "mistake" he still tries to give me 1 pound (about 16 Euro cents) too little. This is all done openly, he knows that you know that he's trying to con money out of you but they wouldn't apologize, matter of fact, they are most annoyed at you when you don't fall for it, and they show their annoyance. When you pay anything at a street shop you have to fight to get your change back. That's simply the standard here if you're a tourist. At the beginning we found it very annoying but now we just laugh about it. I mean, what can you do? Just make sure to have change with you and pay what you think is a fair price and walk away.
I have a boat to catch so I'm off.
Next post will be from Sudan.
Thanx for reading.