08.11-01-06 Tarsus, Syria & Amman, Jordan
When I sticked my head out of the tent this morning Mehmet (bless his soul) had already set out a table set with breakfast and tea (standard drink in Turkey being drunk always and everywhere in here) Right next to the table was a police/traffic vehichle. As a whole it was quite a bizarre/surreal setting. Empty gas-station/ breakfast table/ cop-car next to it. (Up till now there's been quite a few of these bizarre/surreal settings/scenes on our trip.) After we said our thanks and goodbyes we were riding again, heading for the "Oldest Christian Church".  3  weeks before I found our visit to Holy Mary's house to be quite a dissapointment, so I wasn't expecting too much from this visit to Saint Peter's but it turned out to be well worth the visit.  We were lucky enough to be the only 2 people there for the first 10 min or so which allowed us to really take it in. I found it mind-boggling to be standing in the same little space on the same mosaic-tiles that the appostels Petrus and Barnabas stood on shortly after Jesus's crucifiction.
Also, being from South-Africa any structure or building older than a couple of hundred years is something special to me, nevermind 2000+ years. We left the church (not without being invited for tea and photo's by the security guards) and started heading for the border-crossing to Syria. After the officer stamped Christoph through it was my turn. There seemed to be some concern from the customs-officer concerning my passport. It turned out that the stamps I got in my passport flying to London a few times in the past all had a tiny little star next to the date. (You practically need a magnifying glass to see it) The officer said "problem", I asked, "problem, why?" He then explained to me that such a star with 6 points is somehow connected to Israel. I thought to myself that he must be joking , but no, he was dead-serious. (For the uneducated donkeys again : Israel and the Arabic Republic of Syyria are not exactly friends.) If you show any sign of ever been to Israel before in your life, or any sign that you might be planning to go there, you're nor allowed to enter the country, same goes for Jordan)  After a few trick questions trying to get me to say  that I will be visiting Israel he finally stamped me in.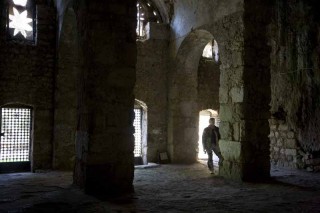 After the whole procedure of getting into Syria we finally entered syria as the sun was already close to being set. We decided to try to push on till the next town in the hope that we might find a hotel. We soon realised that we won't make it to the next town in daylight and that there will most-likely not be a hotel anyways. so we decided to pitch our tents somewhere  hidden from the road where no curious eyes will see us. After around 50km after border-crossing and a bunch of guys trying to stop us with hand-signs, (one with mashine gun casually hanging over shoulder) we found a small gravel-road leading up the slopes into the woods. We folowed it. A minute later we found ourselves the perfect spot to pitch our tents. We were sure that we drove up the little path un-noticed. We were in the middle of setting up when all of a sudden a soldier in army-uniform and dog were making his appearance. He explained in very broken English and hand-signs that camping there is definately not allowed. I think at first he had no idea what to make of us. 2 westerners setting up camp on their millitary-area. We found ourselves in a most undesirable position since it was practically dark and we now have to pack up and find another place to overnight in the dark. Also, Syria is not exactly a country where one wants to search for a camping-spot in the dark, nevermind driving after dark. The army-guy invited us for a coffee and we accepted 'cause it was already practically dark and spending another half-an-hour wouldn't have made our dilemma worse. We followed him to a little building wich turned out to be some kind of watch/radio-station. Entering the little building I thought the interior to look like the inside of a shack that you might find in the South-African shanty-towns. The walls were all cracked up and covered with dirt and  pictures of  plains used in war, the fridge with the Syrian flag drawn onto it with crayons, more pictures of guys in army-uniform. Me and Christoph knew better than to pay any attention to the war-plain pictures. It was obvious that our host was suspicious of us. (we could've been spies as far as he was concerned) Entering I found it pretty ironic/funny that shoes were still being taken off.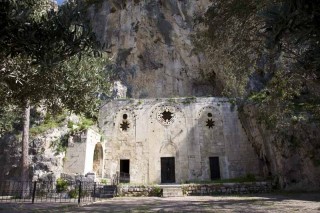 We were given a choice between coffe or tee. I chose coffee in the hope that it might be different than the brew you get when you order coffe in Turkey. I was wrong. I became aware that Mohammed was having a personal dillema: He couldn't decide if we were indeed spies, or if he can trust us and just enjoy our company. It was very difficult to communicate which also didn't help the situation. After many hand-signs and misunderstandings and some uncomfortable silences his non-synicle side got the better of him he decided to invite us for dinner. We got some bread and a spread of small bowls with different weird things which was unfamiliar to us. I loved it. (The mix of the coffee and the weird dish didn't accomodate Christoph's sensitive stomach too well though) It got later and later and we still didn't have any idea whatsoever where we're going to spend the night. Mohammed, who by this time were more or less convinced that we are really who we say we are, explained that he would've invited us to spent the night there if it was his private house but he couldn't have us spent the night there cause he (and us for that matter) would get into serious trouble if the officials might find us there. It was really late and cold and windy when we eventually got on the bikes again. We knew we were in for an unpleasant mission trying to find somewhere to sleep at this late hour in this country off which we know practically nothing of.  We were on the bikes ready to leave when Mohammed had a change of mind. We can spent the night if we make sure to be out of there at 5:00 the next morning before the next shift starts. We gladly accepted the offer. After many more tea's and misunderstandings and hand-signs we finally rest our heads. Alarms set for 4:00 We didn't really get a proper sleep 'cause checks were made throughout the night on the radio/communication system which was set to a ridiculously loud volume.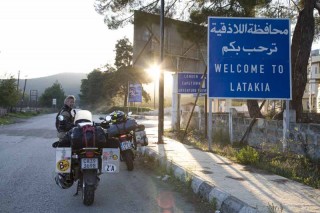 I've just read through this post and realised that there is simply no way for me to really describe this bizarre evening. I also can't offer any pictures of this night 'cause it was completely out of the question to take pictures of anything. At some point he asked Christoph what we did for a living and Christoph made the mistake of saying that we are photographers. Wrong aswer. For a minute his whole attitude towards us changed. Thanks to all the previous misunderstandings we managed to convince him that it was another misunderstanding and that I'm actually a piano-player and Christoph an in- and exporter. Point is, to take pictures there was completely out of the question. A great pity cause it could well have been the most interesting pictures that we would've taken on this trip up to date.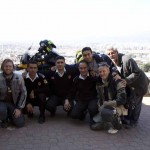 It was most kind of Mohammed to have us there and we are immensly greatful for that. Mohammed, thank you so much for having us there, it was truly a pleasure to meet you and thanks for an unforgettable night and great experience on our first night in Syria. God bless you for taking the risk of having us there.
Ok, enough details for now. Next morning was pretty relaxed at the see.
The afternoon less so. All the driving on the busy highway and passing through the Damaskus was extremely stressful and un-enjoyable. Noise, noise, noise. I also had a very close call to having an accident. A huge passanger-bus thought it no problem to make a u-turn on the highway, blocking 3 lanes. I slowed down to avoid the bus when the noise of screaming tyres reached my ears. In my rearview-mirror I saw a car and lots of smoke coming from it's sliding tyres sliding towards me, practically on me. I opened the throttle. The collision was avoided but it was very close. (Afterwards I wasn't sure if the car actually touched me or not cause I got a little wobble when I opened the throttle. Anyways, no damage done. My guardian angel seems to be doing a proper job as always. We eventually found a hotel in the coastal town, Tarsus. The next afternoon after some more highway we met Hamad at the gas-station where we filled up. (At around 50 Euro cents per liter!) He invited us to spent the night at his house. By this time due to very little sleep, and a lot of loud noise throughout the day, and having to explain to everyone at every little stop we make where we're from etc and noise and noise and noise my irritation levels were in the red so I guess I wasn't to friendly and talkative. Also, my headache didn't help towards my mood. After waiting another 3 hours next to busy, extremely noisy highway we finally followed Hamad to his house. At last somewhere away from the noise. We have just explained (in broken english and hand-signs) what a pleasure it was to be finally away from all the noise when Mohammed though it a good idea to play us endless amounts of different arabian pop-songs and videos on his cellphone. (Was someone playing a sick joke on me?) I couldn't believe how loud such a cell-phone can project noise. Lets just say that I will have nothing good to say about Arabian pop-music. The next morning 6:30 the same cellphone's alarm (which was, guess what… Arabian pop-music at an extremely loud volume) started going off. It litteraly kept on going off for the next half an hour every  3-4 minutes. At 7:00 I got up in a very bad mood. I brushed my teeth and put my earplugs in. What a relief. Christoph informed me afterwards that I was quite rude. I felt a little bad 'cause it was actually really kind of Hamad to invite us there but all the noise simply got the better of me. (Those of you who knows me for a long time knows how loud noises can upset me.) I would like to apologise to Hamad if I was not overly friendly. Also thank you for having us spent the night there. Much appreciated although it may have seemed different.
This now brings me to Jordan where we are now. We crossed the border the next afternoon. The sun was low again so we simply drove off the tar into the desert type landscape away from the noise where we pitched our tents next to a little hill. About 500m away on top of the hill was a military watch-tower. Next to it a tank. After half an hour or so we noticed that it's cannon was being turned in our direction. We were not too concerned because we reckoned they would first make sure that we are indeed Israeli before they would start shooting. We were right in our reasoning and no shots were fired. We much enjoyed a quiet night of camping where we didn't have to speak to anyone. Christoph went to bed at 18:00 (dark already) and I enjoyed a movie on my labtop in my tent. (Thanks Halil)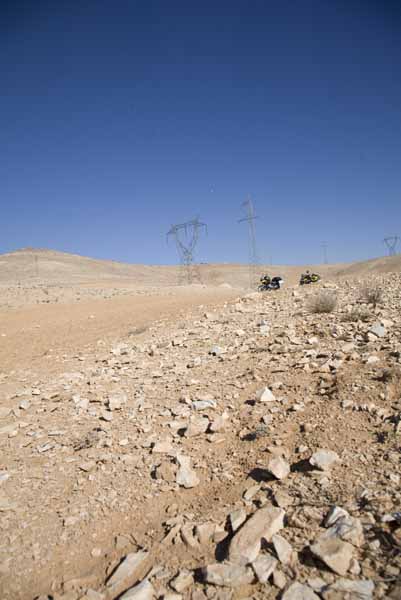 We are now sitting at good old  Macdonalds (free wireless and normal coffe), uploading our posts and pictures.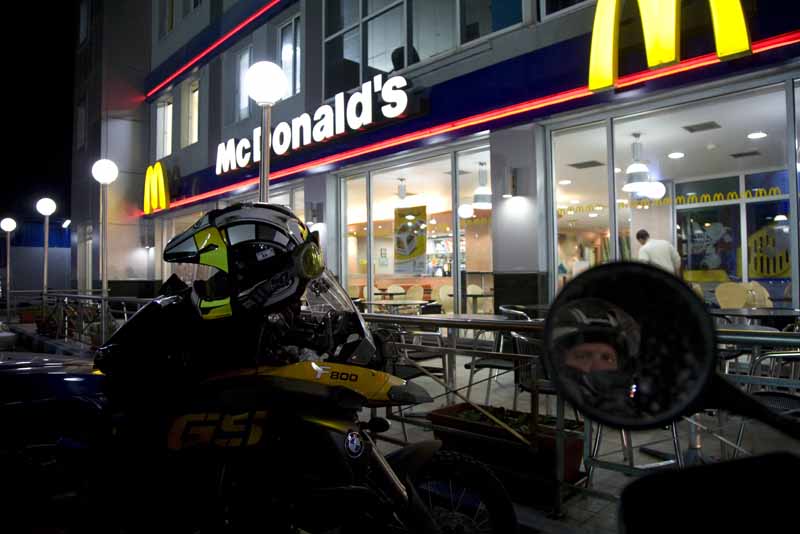 I wont be able to upload this one tonite 'cause it's already late and I'm writing this in my little notebook which means this all still has to be typed into my labtop and then be uploaded the next time we have internet-access. I've only had time to upload my last post here cause me and Christoph are sharing my computer and he also wants to upload. Eventhough it's dark again and we again have no idea yet of where were going to pitch our tents tonite, we are not too concerned. I guess we're getting used to this.
But first, time for another coffee….
Thanx for reading and write those comments,
Gideon