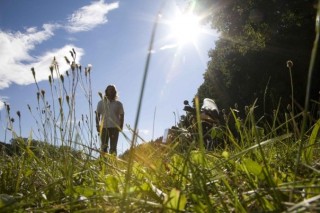 So it's less than 2 weeks now before we're off. Can hardly believe it. I've been working non-stop for what feels like forever and hardly had a minute to reflect on anything. My time in Germany has passed extremely fast this year although it was my longest stay here yet. So many friends I would've still liked to have spent some quality-time with. So many I haven't seen at all this year. I again didn't make it to Berlin this year (amongst a hundred other things). Hardly played any guitar or piano and didn't sing in my choir because of work. Lost contact with many of you, including family and dear and close friends. All the really valuable and important things in life that gets sacrificed (to a certain degree) due to endless hours of selling my time for money. Some days I really hate this rat-race that we're all stuck in. It's not only negative though, there's also alot of good to be had from it, I just think we tend to loose perspective on what's really important and what not. We're all getting abit brainwashed by it all. Therefore I'm very happy and thankful to have the opportunity to break away from it.
To my surprise quite a few people's first question to me about our trip was "Why am I doing it", which I at first found a stupid question. I mean, doesn't everybody wanna do something like this? That's what I thought anyways, but I realised I'm wrong on that. That really made me think on why exactly I so much want to do this, and honoustly, I don't know exactly. Obviously for the adventure, and also, getting away from the rat-race for awhile also has something to do with it, but the main reason I don't know. What I hope to get from it is getting a clearer and more true perspective on life. Maybe it will make me even more thankful for the life I'm leading. (Which I'm really greatful for already)  I think seeing how people in such a big part of the world live in conditions so much worse than ours will be an eye opener. Anyways, enough of the serious stuff for now. 
Still a couple of things that need to happen in the next few days: Gotta drop my bike at BMW tomorrow for final service and replacement of a few things. Gotta get all my vaccinations. Need bike-pants and some clothes and some other bits and odds. I'm not gonna bore you with the rest of it here…
I'm not big on the writing-thing at all, but I promise to make an effort when we're on the road. (Also, the guys put so much work and effort into this website that it would be a sin not writing and posting pics and video). (Thanx again guys!!)  
SO WATCH THIS SPACE…..
Cheers vir eers, Servus, Bye for now,
Gideon
BF
Tags: Germany